Jeans for girls(best design of 2019)
Jeans for a girl is the main item for her wardrobe. You can find a great selection of girls jeans in conventional cuts and contemporary style. Jeans for girls is the best versatile option that can create a great outlook.
Girls!! Are you looking for a new pair of jeans? Then you are in the right place. We have created the list of best jeans design for girls in 2019.  So, you can easily search for what you want.
Finding the right jeans for your body fitting is quite hard, but here you will get all the variety of jeans that are in trend. Here we have sorted according to fit and style. Let's have a look at all types of jeans for girls before going to buy any of them.
Types of Jeans for Girls in 2019
Ankle Skinny Jeans
Skinny jeans, as the name suggests, it fits on the skin. They take the shape of your legs and trace it completely. If you have lean legs, then it is best for you. Skinny jeans come in a low, middle and high-rise waist, all of which are usually stretchable which makes them double good. Girls who are petite or slim legs can wear skinny jeans, it is better to avoid if you are pear body shape.
Skinny Ankle Jeans is very similar to regular Skinny Jeans, except that they end before your ankle. Some of them come with one fold. In the case of design, there is not much difference between these and regular Skinny Jeans.
Straight Legs  Jeans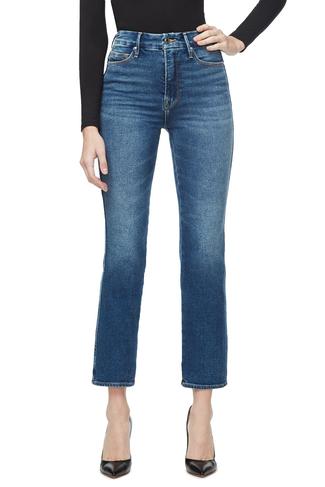 These Straight legs jeans always look fashionable. They are saving grace and make legs look longer than they are. It suits most of the body type because of their design. People who don't like skinny jeans because of their body shape this best suited for them. It also comes as ankle length.
Slim wide Leg Jeans
These pair of jeans are fully proportioned and bottom flattering. In this leg looks long and beautifully shapely.
Flared Jeans
These jeans started to become popular as the nineties fashion statement, and are now returning in modern fashion. While boot cut jeans open slowly under the knees, this style flares up – literally. They fall somewhere between the boot cut and the Bell Bottom Style trousers. It looks best on tall and curvy women.
Jeggings
Jeggings are basically leggings in denim fabric. The styling pattern of both legging and jegging are same. It is just like your super skinny jeans. Most women wear them because they are incredibly comfortable and come with a  waistband instead of the standard buttons system.
They are also a go for pregnant women because they do not put pressure on the stomach, but look stylish. Jeggings come in many colors and shades.
Boot Cut Jeans
It was initially considered as mommy jeans slowly became the favorite of all age group girls. The new boot cut jeans in modern fashion is more tapered than the old boot cut. These come with a great fit at the knee and then open at the calf in a subtle way. You also get them in the cropped format. Boot cut jeans are for the girls who like to keep things understated and classic.
Cigarette Jeans
Cigarette genes are again similar to Skinny Jeans and also fall in the same category. However, they are not of full length and stop slightly above your shins. Cigarette cut jeans have gained popularity due to its stylish look. These are skin hugs, so if you have large thighs, it is best to avoid them.
Cuffed Jeans
It simply the cuffing of your jeans at the end. It helps to create a contrast that looks extremely fashionable.
Low Rise Jeans
Low rise jeans and short tops were trending, like, everywhere. They look great on women with a well-defined waist because they start a little below the belly button. This type is mixed well with skinny, straight and super skinny design patterns. Distressed and low rise, straight cut and low rise, are good choices.
Boyfriend Jeans
These are basically sweatpants of jeans. They have slouch and roominess with a more flattering shape. People started calling these boyfriend jeans because they look like they have been borrowed from them. Really! However, the fit began to improve over time and now, it is considered very stylish. Best for both the body women with curvy or pear-shaped.
Raw Denim Jeans
Raw denim is that denim that hasn't undergone any sort of washing or distressing process, just leaving it as stiff. This is for all types of girls whether lean or pear-shaped. Mostly girls like wear rough denim.
Corsy Jeans
For those who lean toward the khaki side of life, these jeans will be a refreshing update to your to a  neutral look without staying outside of your comfort zone.
High Rise Ankle Jeans
These jeans are usually worn above the waist that covers it almost from the top. The good thing is this that any style can work.
Ripped Skinny Jeans
A form of jeans which is equally popular among the youngsters and model is the ripped jeans. Ripped jeans, also known as torn jeans or distressed jeans are a fashion statement in the fashion world. Girls can wear such pair of jeans ripped in holes from different parts of the trousers.
Baggy Ripped Jeans
Baggy jeans are more comfortable jeans for girls. Skinny jeans are very hard and complicated while wearing. Baggy jeans make you fit in easily and comfortably.
Mom Jeans
Mom jeans are high waist lightly colored women jeans. These jeans are in fashion for the last few seasons. Some women feel embraced in high rise jeans, for them it is relaxed fit in. Most mom jeans have room in the waist and bottom area, that's why they love to wear them.
Paperbag Waist Jeans
A paper bag waist puts an unconventional twist on jeans that will make your denim look and feel much dressier.
Girlfriend Jeans
These jeans have stripes on the outer area. The exterior stripes of jeans add an instant cool factor in it.
Capri Jeans for Girls
Capri jeans are the most modern style of jeans. Anyone can wear it but most girls who have pretty and toned legs to flaunt prefer to wear. The length of the jeans is above the calf or on the calf.
Cropped Jeans
Cropped jeans cover the three fourth of leg, it makes legs look longer and leaner. It is best to wear during the rainy season, gives a cool look. It looks stunning if you pair it with high heels.
Short Jeans
Short jeans are a modern way to wear jeans, and the length is above the knees. They are also known as hot pants, some are very short and some are length to half of the thighs.
Light washed jeans
It gives the look of washed jeans, but actually, it is not. During manufacturing, it gives the look of worn out. These jeans are acid wash and give this look. These are more soft and flexible.
Printed Jeans
Printed girls jeans are the latest trend. It has beautiful prints like flowers, stars, dots or any other prints. They make them look more pretty.
Embroidered girls jeans
Embroidery beautifies the appearance of jeans. Beautiful designs are made with different looks on the jeans, as it can only be done on one side and the other side is a plane or just pocket. Different colors and artistically embroidered jeans stand at a high level.
Patched Jeans
The patchwork is the newest trend in girls jeans. The patching of rag type cloth gives a cool look to it. They all look pretty if match it with the same patched work design top. It gives a very funny look.
Overall Jeans or Dangri
The dangri has straps to hold your jeans and a front covering. It is very popular among girls due to its full covering. It is also known as a jumpsuit.
Colored jeans
These are for the girls who want to wear different colors of jeans to match up with their tops. Colored jeans are available in different colors like pink, green, cream, etc and with many shades of them. Anyone can steal attention with this style of jeans.
Painted jeans
The painted ladies jeans should not be confused and mixed with printed jeans. They are completely different in their looks. The painted jeans are very trendy jeans; They have metal painting, modern painting, rustic painting, and others. They just look beautiful Denim jeans that also available in other colors of jeans.
Jeans and sweatpants for women both are popular. In the Indian market, you can find many branded and unbranded jeans that come in different styles and colors. The ripped and scratchy jeans were worn by the first men, but due to the popularity, they are now worn by girls to look cool.
Hoping this article helps you in making your shopping experience better. On that note go for shopping and this time invest in the right kind of jeans. Have a Happy Shopping!!